CHEFRUNDE – the media executives circle
The primary purpose of CHEFRUNDE is to strengthen the culture of innovation in media companies and to connect decision-makers working on groundbreaking media projects in Germany, Europe, and the United States.
Annette Milz is the founder and head of CHEFRUNDE. She is also the co-founder and publisher of medium magazin, Germany's leading professional journal for journalists and media professionals.
Throughout the year, CHEFRUNDE workshops take place on-site at media companies in Germany. Twice a year, groups of media executives from Germany and Europe visit influential and pioneering media and technology companies in the United States as part of CHEFRUNDE's international study tour (#CRUSA). Participation is by invitation only.
Members of CHEFRUNDE belong to the editorial boards of Germany's leading national and regional media, including Spiegel, Zeit, Süddeutsche, Bild, Welt, Rheinische Post, Berliner Morgenpost, and German Television and Radio.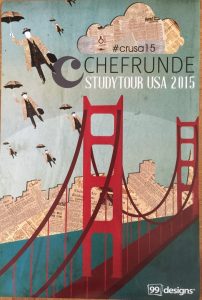 Since 2013 CHEFRUNDE has brought media innovation delegations to San Francisco, Silicon Valley, Seattle, Los Angeles and New York City, and met with a range of media institutions, startups, incubators, and technology companies. Not only do the delegates get a glimpse into the change and innovation processes in the United States, the U.S. companies gain valuable insights into the German media market and have made lasting contacts and profitable partnerships.
These international innnovation trips – the "CRUSA" –  included discussions with
Arthur Gregg Sulzberger (New York Times),
Jonah Peretti (Buzzfeed),
Peter Thiel (Founders Fund),
Richard Gingras (Google),
Richard Socher (Salesforce)
Kara Swisher (Re/code),
Albert Wenger (Union Square Ventures),
Ben Lerer (Thrillist),
Marty Baron (Washington Post),
Matthew Kaminski (Politico),
Susan Danziger (Ziggeo),
Tony Haile (Scroll),
Katie Stanton (Twitter),
Casey Newton (The Verge),
Nathan Blecharczyk (airbnb),
John Keefe (Quartz)
Corey Ford (Matter),
Andrew Phelps (The Atlantic),
Nick Johnston (Axios),
Betsy Reed (The Intercept),
Tony Haile (Chartbeat),
Om Malik (om.co),
Lewis D´Vorkin (Forbes),
Andre Rohe (Google),
Jeff Jarvis (CUNY),
Jeremy Caplan (Tow-Knight Center for Entrepreneurial Journalism),
Andy Mitchell (Facebook),
Raju Narisetti (News Corp),
Konstantin Guericke (Earlybird),
David Morgenthaler (Morgenthaler Ventures),
Julia Hartz (Eventbrite),
Patrick Llewellyn (99designs),
Andrew McLaughlin (betaworks),
Cory Bergman (Breaking News),
Stephen Engelbert (ProPublica),
Andy Stark (Microsoft),
Rahul Chopra (News Corp./Storyful),
Steve Grove (Google),
Adam Sharp (Twitter),
Sam Hall (Amazon),
Burt Herman, (hacks/hackers),
Robert Rosenthal (Center of Investigative Reporting),
Jan Beckers (Hitfox),
Hanno Fichtner (App Lift/Hitfox),
Christian Jörg (Opentopic),
Alex Blumberg (Gimlet),
Jake Shapiro (Matter),
Lutz Finger (LinkedIn),
Jim Colgan (Soundcloud),
Noam Bardin (Waze),
Jesse Shapins (Zeega),
Michael Downing (Tout),
Gideon Lichfield (Quartz)
Max Read (Gawker),
Noah Rosenberg (Narratively),
Evan Ratliff (Atavist),
Jaron Gilinsky (Storyhunter),
Jim Giles (Matter),
Christian Springub (Jimdo),
David Cohn (Circa, Alpha Group),
Jenny Brinning (Tumblr)
Eric Greenberg (Wrap media),
Greg Osberg (Revlyst),
Sarah Cohen (New York Times)
Erik Spiekermann (EdenSpiekermann),
Ciel Hunter (Vice)
Hosi Simon (Vice)
Shaul Olmert (Playbuzz),
Jim Kennedy (AP)
Eileen Cooney (Framestore),
Lara Setrakian (News Deeply),
David Kirkpatrick (Techonomy),
Jay Newton-Small​ (MemoryWell),
Nick Johnston (Partnership on AI),
and many other technology and media luminaries.